iPad Kiosks and Stands for Day Care Centers
Aridan Books enhances preschoolers' learning experiences with the creation of unique iPad Kiosks (stands) for day care centers. Our colorful iPad stand is shaped like a giant 5'-tall crayon. The patented and trademarked stand accommodates up to four iPad learning stations for your iPads.
Comfortable & Space-Efficient
The adorable crayon iPad stand is the perfect size for almost any room and is electronically wired with an internal 6 outlet power surge protector, external plug & cover. Even with four child-size chairs around it, the stand is very space-efficient for day care rooms.
Each child sits on a chair in front of an iPad which is mounted in a locked iPad holder on the stand. A list of app icons appears on the touch screen. The child touches the icon and the app opens. From that point on, each child is busy having fun and learning.
A customized selection of the most highly acclaimed educational children's apps for your iPad kiosks are available through Aridan Books' convenient App Management Program. Or, if you prefer, you can load and manage your own selection of apps.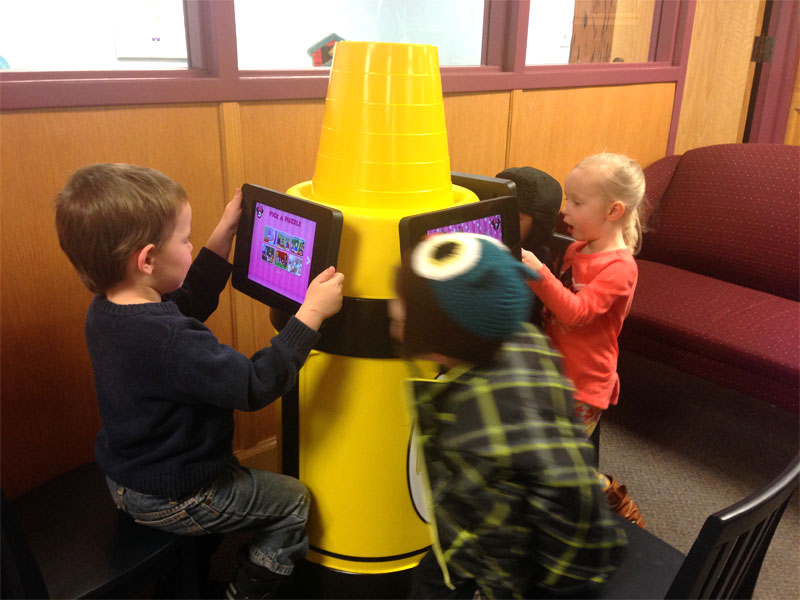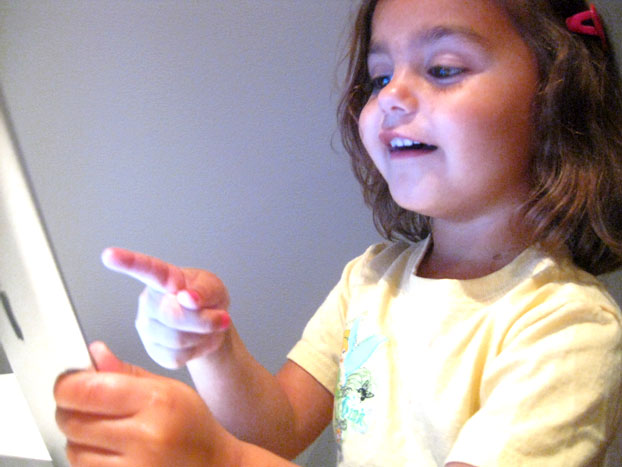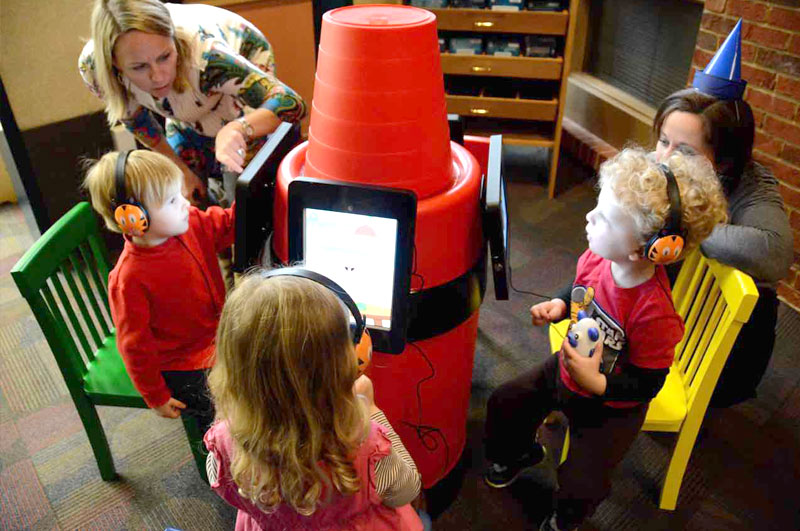 Advantages of iPad Stands for Day Care Centers
Your iPads Are Safe and Secure.
Many preschoolers have played on their parents' iPads. Unfortunately, it's not practical for a day care center to pass around expensive iPads to young kids. Thanks to Aridan Books' patented iPad kiosks, preschoolers at day care centers have the opportunity to play children's educational apps on an iPad that is safe and securely positioned on our crayon learning station.
A Little "Alone Time"
Many day care activities are group activities. Children listen to the day care teacher together, watch videos together and play together. By contrast, Aridan Books' iPad learning stations give children some "alone time" so each child can calm down and focus on a specific educational iPad app such as a talking book, counting numbers, learning the ABCs and solving puzzles.  This alone time provides important balance to the more active experiences throughout the day.
Integrate iPad Educational Apps into your Daily Curriculum
Aridan Books has extensively researched the best age-appropriate children's apps for toddlers to eight year olds. Our inventory of apps includes a wide selection for each age.
Remote App Management System
We'll remotely load your customized app selection on your iPad kiosk and make sure everything works properly. If you ever have a problem, our tech support will take care of it.
OPTIONAL: Do-It-Yourself Content Management System
You can choose to have your own computer technician load and maintain your own iPad apps on our crayon kiosk.
iPad Kiosks Are an Instant Hit
You can learn a lot from Ellen Firer's experience with our iPad crayon kiosks. Firer is the library director of the Merrick Library on Long Island, NY. Director Firer bought one kiosk with four iPad learning stations, but soon ordered a second one to keep up with the demand.
"Before we had these iPad stands," Firer said, "the children would come in and run straight to our saltwater fish tank to see the clown fish. Now they run straight to the crayon kiosks."
For more information about our unique iPad Kiosks and Stands for day care centers, first check out our Products page. Then call Aridan Books at (516) 208-2331 or contact us online for more information or to place your order.
Don't forget to follow us on Facebook, Twitter, Instagram, Pinterest and LinkedIn.