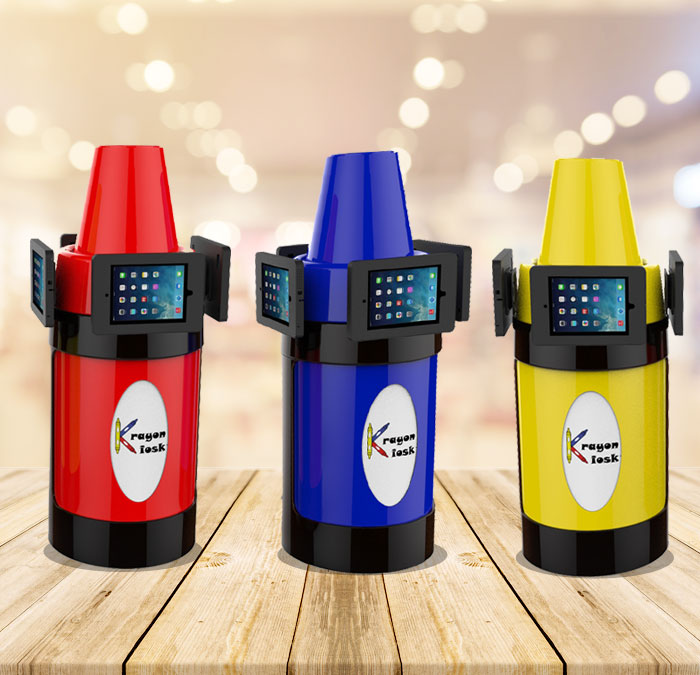 iPad Kiosks and Stands for Ronald McDonald Houses
Families stay at Ronald McDonald Houses because their baby or child is hospitalized in a city far from their hometown. The Ronald McDonald House provides a safe haven for the family during their ordeal. For a nominal fee, they can sleep and eat three meals a day in a warm, friendly atmosphere with a very compassionate staff.
Calms Down Nervous Children
Aridan Books helps make the atmosphere at the Ronald McDonald House even friendlier for the siblings of the hospitalized child with a new way to entertain them. We've created an iPad stand (kiosk) loaded with the best children's educational apps for iPads such as talking books, puzzles, and cool ways to learn the alphabet, numbers and even geography.
Shaped like a giant crayon the adorable crayon iPad stand is the perfect size for entertaining children and is electronically wired with an internal 6 outlet power surge protector, external plug & cover. Even with four child-size chairs around it, the stand is very space-efficient, leaving plenty of room for your other toys, games and books.
Fun & Entertaining for Toddlers to 8-Year Olds
Children sit on chairs in front of iPads locked in protective holders. The screen lists the app selection, and the children touch the screen and choose their app. Soon previously anxious and restless children are fully engaged and busy having fun and learning.
Advantages of iPad Stands for Ronald McDonald Houses
Your iPads Are Safe and Secure.
Many preschoolers have played on their parents' iPads with supervision. Thanks to Aridan Books' patented iPad kiosks, preschoolers can play on your iPads without damaging them.
A Little "Alone Time"
Aridan Books' iPad learning stations give children some "alone time" so each child can calm down and focus on a specific educational iPad app such as a talking book, counting numbers, learning the ABCs and solving puzzles. Parents can take a deep breath, too, and simply watch their children having fun.
Wide Selection of Popular Educational Children's Apps
Aridan Books has extensively researched the best age-appropriate children's apps for each developmental stage from toddlers to eight year olds. Our inventory of apps includes a wide selection for each age.
Remote App Management System
We'll remotely load your customized app selection on your iPad kiosk and make sure everything works properly. If you ever have a problem, our tech support will take care of it.
OPTIONAL: Do-It-Yourself Content Management System
You can choose to have your own computer technician load and maintain your own iPad apps on our crayon kiosk.
iPad Kiosks Are an Instant Hit
You can learn a lot from Ellen Firer's experience with Aridan Books' popular iPad kiosks. Firer is the library director of the Merrick Library on Long Island, NY. Firer started out with one kiosk with four iPad learning stations. Soon she ordered a second one to keep up with the demand.
"Before we had these iPad stands," Firer said, "the children would come in and run straight to our saltwater fish tank to see the clown fish. Now they run straight to the crayon kiosks."
For more information about our unique iPad Kiosks and Stands for day care centers, first check out our Products page. Then call Aridan Books at (516) 208-2331 or contact us online for more information or to place your order.
Don't forget to follow us on Facebook, Twitter, Instagram, Pinterest and LinkedIn.