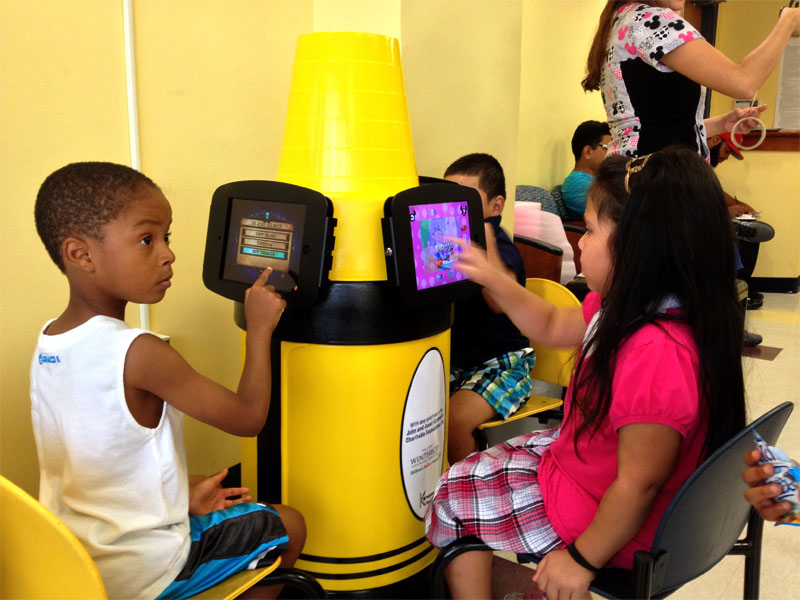 Kids iPad Kiosk at the Pediatric Clinic
Calming Clinic Concerns with a Krayon Kiosk
Testimonial by Mrs. Weber – Practice Manager Hempstead Pediatric Clinic
---
Winthrop University Hospital Hempstead Pediatric Clinic is extremely grateful for the donation of a Crayon Kiosk to our busy Waiting Room. The kiosk, which houses three iPads for use by waiting patients, was a donation through a foundation who gives regularly to the hospital.
Waiting for the Doctor has never been so much Fun !
The staff have noticed a considerable difference in the Waiting Room now that the large crayon with the iPads has been added to the space. Before the parent even signs in at the front desk the children are making their way to the Krayon Kiosk. Rarely is there an unoccupied chair and children anxiously wait for their turn when all of the stations are in use.
The Best iPad Safety and Security for Kids
The iPads have been set up in accordance with our established guidelines and are unable to be altered by the children or the parents who use them. The apps are both educational and entertaining for our patients and vary in their complexity. Children are able to choose from a variety of apps and therefore they do not lose interest even if they need to visit us often.
Perfect for Patients, Families, and Staff Members
Doctors, Nurses and all Staff feel as though the Crayon Kiosk has been a very positive addition to our Waiting Room and we hope to add an additional kiosk sometime soon. It has been a pleasure dealing with the Krayon Kiosk team during the set-up and management of the kiosk. The iPads come in programmed and ready for use and the rest is up to the children who just seem to naturally be able to navigate the systems. Any questions or concerns about the Crayon Kiosk are immediately addressed. This is one of the best additions to our office.
Learn more… www.KrayonKiosk.com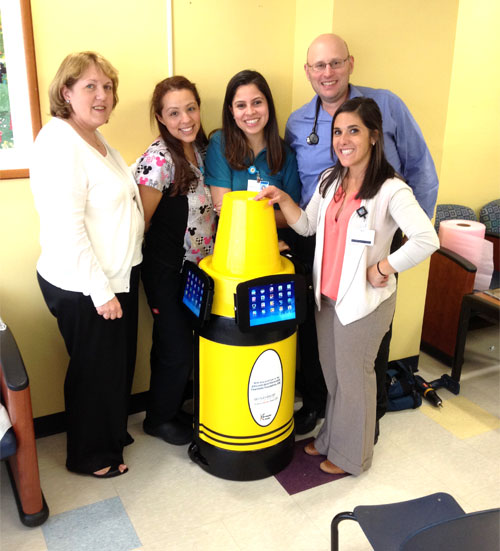 For more information about our unique iPad Kiosks and Stands for day care centers, first check out our Products page. Then call Aridan Books at (516) 208-2331 or contact us online for more information or to place your order.