Uniondale Library iPad Management Solutions
The Uniondale library decided to utilize the Krayon Kiosk IT services team in setting up and managing their iPad devices.
Don't Let Technology Overwhelm You – Testimonial By Jackie Fitts – Head of Children's Services @ Uniondale Library
---
How did your library handle technology in the past?
Fitts: We did it ourselves most of the time. A while back, we used to have an IT guy to help, but when we purchased the Krayon Kiosk in November, we no longer had his services available to us.
What was it like handling the technology yourself?
Fitts: Overwhelming and time-consuming. We felt like we were moving from children's librarians to iPad technicians, with no training and lots of googling. In the beginning, we spent time choosing and installing apps ourselves. Whenever something went wrong, we would try to fix it.
Was there a pivotal moment that led you to choose a Krayon Kiosk service contract?
Fitts: Apple ID confusion. We discovered teen apps on our children's iPads. After a lot of hassle, we learned that the same account was being used for both the children's and teen services. Teen apps automatically appeared on the children's iPads without our knowledge.
How was the service provided by the Krayon Kiosk team?
Fitts: Prompt, responsive, thorough, and excellent. The Krayon Kiosk team was easy to work with, and they came right away to fix the problem. They also added some additional apps that they typically provide to libraries. We know we can count on the Krayon Kiosk team in the future.
Why did you choose the Krayon Kiosk?
Fitts: to improve children's safe access to technology. In children's, we don't want anything to move or drop. The Krayon Kiosk is stationary and gives parents peace of mind. The parents know that the children are safe, using only library-approved apps. A lot of Uniondale children don't have iPad access at home, so library time might be their only chance to experience these modern learning tools. Our goal is to make technology accessible to children whose caregivers are unable to provide it.
Learn more… www.KrayonKiosk.com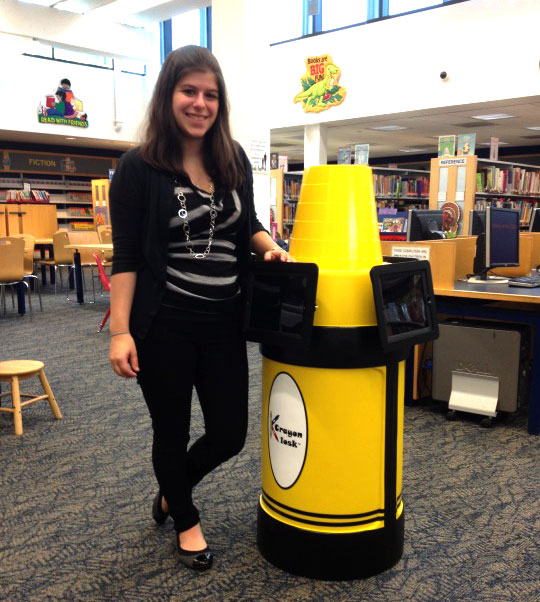 For more information about our unique iPad Kiosks and Stands for day care centers, first check out our Products page. Then call Aridan Books at (516) 208-2331 or contact us online for more information or to place your order.